James A. Swan's Home Page
Chasing the Hunter's Dream:
1,001 of the World's Best Duck Marshes, Deer Runs, Elk Meadows, Pheasant Fields, Bear Woods, Safaris, and Extraordinary Hunts
by James A. Swan
HarperCollins, 2007
$19.95, 528 pages, paperback.
Buy from Amazon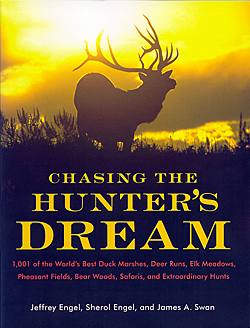 #1 Best-selling hunting and shooting book on Amazon.com, September 2007 "The only book of its kind. . . . the definitive guide to hunting destinations in North America and beyond."
-- Tom Stienstra, San Francisco Chronicle Think of it as a hunting enthusiast's ultimate print fix.
"Chasing the Hunter's Dream,"(is) a beefy book that not only boasts a thousand places to hunt, but adds a nice touch of storytelling - resource and entertainment in the same package." The Denver Post, October, 2007
A complete illustrated guide to the best hunting destinations around the world, with priceless advice on equipment, outfitters, safety, recipes, trophy care, and more. Co- written with the hosts of the award-winning television series "Engel's Outdoor Experience," with the guiding philosophy of "The Honorable Pursuit of Fish and Game," fascinating personal experiences along with expert advice on the best locations to hunt both big and small game throughout North America, Mexico, Africa, New Zealand, Asia, and Europe. Organized by location, this book covers everything you need to know, including: Preparing for hunts in different climates and culture; Traveling with firearms on national and international flights; Choosing clothing and equipment for each locale; Finding trustworthy outfitters, guides, and lodges; Getting your trophy home from halfway across the world; The ethics and philosophy of hunting for pleasure; Favorite wild game recipes; and much more.
"A dream of a hunting book."
Bill AuCoin, the AuCoin Report.
"The most comprehensive guide to big game hunting both domestic and abroad. This 514 page guide is a must for anyone that loves to hunt and travel."
Jim Ferguson