James A. Swan's Home Page
IN DEFENSE OF HUNTING
by James A. Swan, Ph.D.
Harper San Francisco, 1994
290 pages (ISBN0-06-251237-4)
Over 70,000 copies sold.
Buy on Amazon.com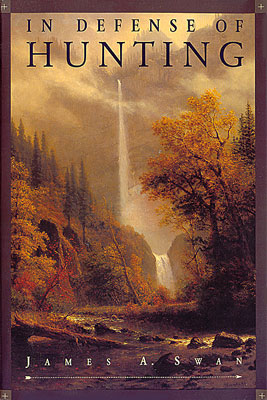 "One of the best books in print."-- New York Review of Books Readers' Catalog
"In Defense of Hunting by James A. Swan (is) an authority favored by General Norman Schwarzkopf and other proud, manly-men hunters…" Natalie Angier, New York Times Book Review
"This book may well be the first step in building a bridge of communication between hunters and anti-hunters through understanding why we hunt. IN DEFENSE OF HUNTING is an easy-to-read instant education of why we carry on this rich, important heritage called hunting." Dave Watson of the Oak Ridge Boys
"This dynamic book was written with care, knowledge, experience and a sense of duty to once again realign modern man with his spiritual roots in the land. Buy one. Read it. It will keep the Spirit of the Wild strong and free." Ted Nugent
"Contains the best information on the importance and value of hunting today that I have ever read. This is MUST reading for all hunters and non-hunters." Bowhunter
"An eloquent statement.. thoughtfully crafted...something of a self-defense manual, a must read for those who hunt or fish or manage the resource." Charlie Meyers, Denver Post
"Hunters should be proud of themselves. In fact, it's a must. That message comes through eloquently in a thought-provoking new book by environmental psychologist James A. Swan." Ed Dentry, Rocky Mountain News
"Swan eloquently defends hunting on moral, ecological, and historical grounds...This is a thoughtful, reasonable book that will reinforce some opinions already held and, more importantly, prod those with no stance to investigate further." Booklist
"An eloquent and entertaining blend of stories, science and common sense probing the heart and soul of hunting and its opponents...a distinctly poignant and personal analysis of the essential role of hunting in the delicate balance of life..." Chuck Petrie, Editor, Ducks Unlimited
"IN DEFENSE OF HUNTING is the best and most thorough analysis of the morality of hunting there is, and is documented by invaluable reference material." Walter E. Howard, Prof. Emeritus of Wildlife Biology, UC Davis
"I've read just about everything written about anti-hunting, animal rights, and hunting and the meaning of hunting in modern society, and this book by James Swan is hands down, the most interesting and informative book ever written on this subject." Dr. Dave Samuel, Pope and Young Club Newsletter
"Destroys the anti-hunting arguments!" Montreal Gazette
"One of the finest books on the subject to date... intellectually stimulating and thought-provoking." Craig Fritz, California Bowmen Hunters
"The objective reference on the subject." Dick Murdoch, Marin Independent Journal "Swan speaks with passion for the hunter and with consummate reason for the anti-hunter...If this reasoned defense of hunting hits its target, it will make us all better off." Dr. Thomas McGuire, Univ. of AZ Anthropology Dept.
"...a thorough response to those who denounce hunting." Kirkus Review
"It should be required reading for both sides and the undecided." Atlanta Journal Constitution
"Drawing on solid credentials...Swan argues that understanding why people hunt involves understanding humankind's fundamental nature. Hunting is a spiritual ritual...an ancestral tie to our human history." Library Journal
"Swan here presents hunting as a near-mystical experience, a test of skill, an opportunity to commune with nature." Publishers Weekly
"Everyone must read this." Dave Campbell, Outdoorsmen's Advocate, Outdoor Sportsmen's Coalition of California, KEYX talk show host.
"An excellent piece..." Bill Karr, Editor, Western Outdoor News
"Swan speaks with eloquence and passion for the hunter and with intellectual and consummate reason toward the anti-hunter." Pete Ottesen, Stockton Record
"...IN DEFENSE OF HUNTING, is a must for those who are interested in perpetuating the outdoor sport." John Lohman, Fargo, ND, Forum
IN DEFENSE OF HUNTING is available through your local bookstore,
Amazon.com
, or directly from the publisher (1-800-331-3761)