James A. Swan's Home Page
The Sacred Art of Hunting
by James A. Swan
Willow Creek, 2000
$22.50 Hardcover, 144 pages,
100+ illustrations and photographs.
Buy on Amazon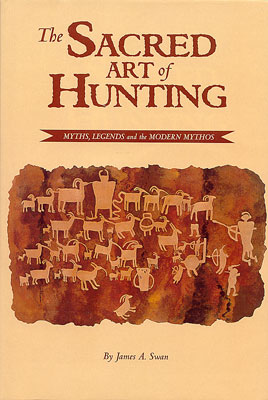 This richly illustrated account of the eternal heritage of hunting as a heroic journey , ala Joseph Campbell, is told as a metaphor of a group of hunters who are forced into a cave by a sudden snowstorm. As a fire is kindled, the walls of the cave come to life with petroglyphs and pictographs that account each stage of the hunter's journey. From the shadows, a transpersonal convocation steps forward to share stories to each stage of the hunt, the feelings that occur and religious and mythic guidance to elevate those feelings. Some special elements include: the Navajo Deerhuntingway; the tradition of Saint Hubert, the patron saint of hunting; Christian, Muslim and shamanic hunting ethics; the "Last Bite" honoring of slain game; hunting gods and goddesses; prayers, old and new, and stories from many modern hunters lead the reader to see how ethical hunting leads hunters to become ardent conservationists..
2002 Book of the Month Club selection
"Book of The Year 2001," Outdoor Writers of California "Damn good book!" Marshall Teague, veteran film and television actor
"In The Sacred Art of Hunting, Swan gathers a rich heritage of myth, legend, custom, and philosophy from around the world to reveal a penetrating glimpse into the hunter's soul." Sports Afield
"Every modern-day hunter with a desire to return to his or her roots should read The Sacred Art of Hunting." Betty Sodders, Whitetails Unlimited
"In many senses this is a striking work. Swan has an uncanny knack for putting into words what so many of us think and feel, yet find difficult to express, when it comes to hunting and killing. …this is a book which belongs in a prominent place on the shelves of every thinking, caring hunter." Dr. Jim Casada, Wild Turkey
"…a penetrating insight into the soul of the hunter. … a richly, wonderfully illustrated work which will provide inspire to hunters and enlightening for non-hunters as it offers a persuasive and thoughtful perspective on the nature of human beings, our presence in the natural scheme of things, and our evolving place in a changing world. The Sacred Art Of Hunting is highly informative, engaging, uniquely inspiring reading." Midwest Book Review April 4, 2000 "Swan's The Sacred Art of Hunting is a must read for hunters and non-hunters. The information is powerful and energizing. The photos are historic and keep you in awe." Ray Stroup, Humanitarian Services, Safari Club International
"I love the history, the mythology, the many hunting stories that are interspersed to make vivid examples of the salient points of the book. The photographs are an added bonus to this wonderful text. But most of all, I love the seventy quotes used to support the reason for this book… This book could make a difference if non-hunters read it. Why? Because it summarizes better than anything ever written on our place, the place of the hunter, in this changing world." Dr. Dave Samuel, Bowhunter
"Jim Swan may be the best of the outdoor writers at researching a topic and then putting all the facts together to create a truly inspiration book… THE SACRED ART OF HUNTING … presents a penetrating picture of the hunter's soul. If you read it for no other reason, read it to help you understand why you hunt or why someone you know hunts -- and why hunting is such an integral part of our culture and has had such a powerful influence on the cultures of the world." Tony Dolle, TNN Outdoors
"If you enjoy those little morsels about hunter yesterday and what makes hunters tick, you will love the four course meal served up in James Swan's book The Sacred Art of Hunting. …The book is a treasure trove of information about hunting…. Mark Herwig, editor, Pheasants Forever