James A. Swan's Home Page
War In The Woods
by Lieutenant John Nores Jr. and James A. Swan, Ph.D.
Lyons Press, 2010
200 pages (ISBN 978-1-59921-930-1)
Buy on Amazon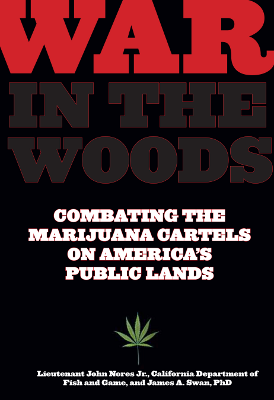 Americans may disagree over the legalization of marijuana, but not when it comes to the pot plantations fast turning once-pristine corners of our public lands into environmentally ravaged war zones. Guarded by armed gangs, who are willing to kill innocent hikers and law enforcement personnel to protect their profits, these illicit wilderness farms pollute and destroy the ecosystems wildlife relies on. Whose jurisdiction is this? Game wardens, the unsung heroes of our national wild lands, are the first line of defense. In War in the Woods, California Game Warden John Nores and James Swan recount in riveting detail the perilous job of eradicating pot plantations. It is a chilling read, and one that finally turns our focus to the issue and the law enforcement teams leading the charge. Lt. John Nores Jr. is a longtime California Fish and Game Warden, and the point man for California Department of Fish and Wildlife's tactical anti-marijuana and organized crime unit. In 2008, John received the medal of valor from Governor Arnold Schwarzenegger. James A. Swan, PhD has written 10 nonfiction books and two novels, and produced a documentary film, "Endangered Species: California Fish and Game Wardens." He is the co-executive producer of
"Wild Justice"
, an award-winning TV series on California game wardens produced by Original Productions for the National Geographic Channel that features Lt. Nores. A new 24-minute documentary
WAR IN THE WOODS: Raid to Reclamation
has just been released by producer Rick Stewart of
American Zealot Productions.
Reviews:
"As the former Director of the White House Drug Policy Office, I am well aware that drug trafficking organizations are using our nation's public lands to cultivate marijuana and protecting their drug crops with dangeorus booby traps.  Brave law enforcement officers across the nation are confronting these traffickers, often at enormous personal risk.  In War in the Woods, Lt. John Nores and James Swan describe in  riveting detail the perils involved in eradicating marijuana in California.  It is a compelling read that illuminates the dark side of criminal marijuana cultivation."
-- General Barry McCaffrey
"War in the Woods brings to light the dangers and environmental devastation wreaked by illegal marijuana operations on public lands and puts you in the middle of the action as the 'Thin Green Line,' California's Fish and Game Wardens, fight bravely to protect our citizens and our fragile natural places." -- Assemblyman Jared Huffman, Chair, California Assembly Water, Parks and Wildlife Committee
"Eradicating illegal pot groves on our public lands is not for the faint of heart or the badge-wearing political types looking for a pat on the back. Read War in the Woods, and you will begin to truly appreciate game wardens, the rare and endangered species of brave men and women doing a thankless job they know matters." -- Marshall Teague, actor ("Armaggeddon," "American Heiress," "Road House"), former Deputy Sheriff, retired US Navy.
"For three days in 480 B.C., 300 Spartans held off the entire Persian army at Thermopyale and became history's most-cited example of the advantages of training, equipment and knowledge of the terrain to become a symbol of courage against overwhelming odds. Today, only 200 California Fish and Game Wardens are fighting to protect America's public lands from drug dealers looking for their share of the estimated $38.5 billion dollar marijuana business. Today, they're California's Spartans, and War in the Woods tells their story in their words. -- Jim Shepherd, Editor/Publisher, The Outdoor Wire (former Director of News, CNN)
Books may be purchased from
Amazon.com
.