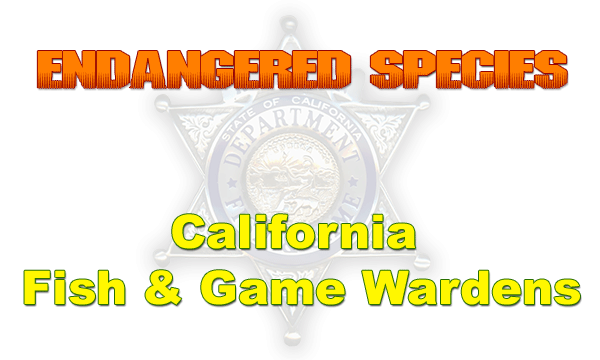 A feature-length documentary on the California game warden crisis, narrated by actor/author Jameson Parker ("Simon and Simon")
The Warden Shortage:
California has the worst game wardens per capita ratio of any state or Canadian province (192 in the field) which is attracting organized crime to poaching and contributing to more than a $100 million a year black market in wildlife that has dire consequences for salmon, striped bass, sturgeon, deer, abalone and many other species. The warden shortage also reduces protection from marijuana cultivation and illegal drug manufacturing on wildlands, which threaten all outdoor recreationists.
"Game Wardens have run silent and deep for many years," says DFG Law Enforcement Chief Nancy Foley. "Endangered Species" lets everyone see what it's like to be a game warden.
Working from a home office, covering huge remote areas alone, and normally without backup, game wardens enforce a wider range of law - wildlife, criminal, civil, and traffic law - than any other state law enforcement officer, as well as performing search and rescue, homeland security, hunter education instruction, and combating drug manufacturing. Being a game warden is among the most dangerous of all law enforcement jobs, as well as the lowest paid. But, for those who stick with it, they would not have it any other way.
Production:
For nearly two years, James and Andrew Swan (of Snow Goose Productions), travelled the state, riding along with over 50 wardens in airplanes, helicopters, snowmobiles, boats and patrol vehicles. Special segments include a bust of a 20,000-plant marijuana grove; ground-aerial patrols for spotlighting; shootout in a marijuana grove; takedowns for abalone, caviar and bear poaching; and a warden's discovery of a terrorist cell.
Since its premiere before a standing room-only crowd at the Sacramento International Sportsmen's Exposition in January 2009, "Endangered Species" has been screened before the CA Fish and Game Commission, at the Safari Club International annual convention (with Senator Dennis Hollingsworth and NCIS Stunt Coordinator Diamond Farnsworth), twice at Bass Pro Shops Galas, and at the National Law Enforcement Museum in Washington, DC.
Over 1500 copies have been distributed throughout California and nation-wide, including all members of the CA Assembly and Senate. A copy has been placed in the library of every county, two and four-year college in California that has a criminal justice program.
Sponsors include:
CA Fish and Game Wardens Association, California Waterfowl Association, The Wild Sheep Foundation, Nor. California Council Federation of Fly-Fishers, Sierra Club, LEF Foundation and the California County Fish and Game Commissions of Butte, Colusa, Imperial, Kern, Mono/Inyo, Napa, San Diego, Santa Clara, San Bernadino, Solano, and Sonoma counties.
Praise:
OFFICIAL SELECTION - 2009 Green Unplugged Film Festival
OFFICIAL SELECTION - Hazel Wolf Environmental Film Network
OFFICIAL CONTESTANT - 2009 Jackson Hole Wildlife Film Festival
"VERY WELL DONE" -- John G. Avildsen, Director Academy Award-Winning "Rocky," and "Lean On Me"
"... reveals the challenges faced by the state Department of Fish and Game's understaffed warden force..." - Matt Weiser, Sacramento Bee
"...skillfully reveals the wide range of their (wardens) responsibilities, the risks they take, their love for their work, and why they deserve more support." - California Senator Dennis Hollingsworth, Republican Whip
"You did a fabulous job representing the wardens." - Caryn Maier, Colusa County Fish and Game Commission
"The documentary is excellent! I've really enjoyed watching it. I hope this really gets viewed broadly and ends up helping to increase the awareness of our limited and threatened fisheries, with a much needed increase in the number of wardens in CA." - Stefan Parnay, Sonoma County Fish and Wildlife Commission
"There aren't many films out there that highlight our chosen profession ...So, if you are not aware of the current plight of California game wardens, there is a new DVD available from Snow Goose Productions entitled "Endangered Species: California Fish & Game Wardens" that will give you the lowdown. Not only does it explain the current California warden shortage and the prognosis for the Fish and Game Department, but it provides us with a great insight into the job of a California Game Warden." - Gerry Lister, International Game Warden magazine
"This documentary really nails it...." - Gary Leonard, Retired Police Chief, avid outdoor sportsman.
" .... lets everyone see what it's like to be a game warden." - American Police Beat
"... most informative." John Carlson, jr. Exec. Director, CA Fish and Game Commission
"..... absolutely worth every minute of your time." - Kevin Paulson, Huntinglife.com
"... one of those eye-opening bits of outdoor reporting ... It's not an uplifting story, but "Endangered Species: California Fish and Game Wardens" is one that individuals, organizations and legislators need to see." - Jim Shepherd, Editor/Publisher of The Outdoor Wire (Former Director of News for CNN)
"Great job on your new documentary on the shortage of game wardens in California." - Robert Sahara, D.V.M., Treasurer, Cal-TIP, Inc.
"(Endangered Species) was top draw of the day at the Eastman theater" (at the ISE show premiere.) - Tom Stienstra, San Francisco Chronicle
"I have enjoyed viewing the Endangered species, California Fish & Game Wardens.... It has given me a lot to think about... Well done job... as usual." - Eugene LaPointe, President, IWMC World Conservation Trust, former Secretary-General of CITES
"I thought the documentary was excellent." - Michael Hupy, attorney, Hupy and Abraham, S.C.
"..... absolutely worth every minute of your time ... Great movie... I learned a ton!!!." - Kevin Paulson, editor/publisher Huntinglife.com
"Great job!" - Judd Hanna, California Game Wardens Foundation (former Commissioner, CA Fish and Game Commission)