James A. Swan's Home Page
LD-50
by James A. Swan, Ph.D.
Smashwords.com
, 2011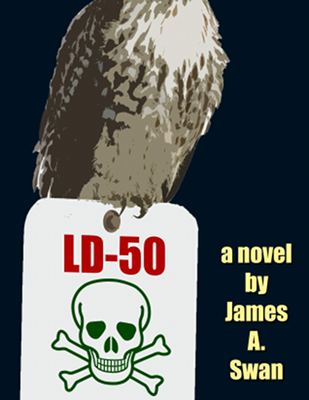 (For all of July 2017, LD-50 is free on Smashwords! Get your copy while you can!)
Author and co-author of 10 non-fiction books that have sold over a quarter million copies world-wide, environmental psychologist-writer-actor and producer James A. Swan, Ph.D has just published his first novel LD-50 -- an environmental techno-thriller featuring US Fish and Wildlife Service Special Agent Moses Molson, who uses a unique cross-cultural blend of ancient wisdom and modern science to solve wildlife crimes.
Synopsis
In the Grand Traverse Bay area at the tip of the pinkie finger of Michigan's Lower Peninsula; eagles, hawks, foxes, bears, and other predators are dying in droves and biologists are stumped. Some locals believe that the slaughter is a sign of an ancient Indian apocalyptic prophecy that the earth is out of balance. Proof of that theory, they assert, is that bigfoot footprints are starting to pop up. US Fish and Wildlife Service Special agent Moses Molson, part-Indian (and some say part-hawk), is on the case but he needs help as special agents generally work alone and are about as common as whooping cranes. So, for his back-up Moses draws on two unconventional volunteers: "Fuse," a former army explosives expert hiding in the woods trying to try to heal a bad case of PTSD, and Charlie Wang, a multi-cultural wizard who heals man and nature with wisdom, magic and spirits. Things shift into high gear when a dying hawk leads Moses to connect with Monica Jankowski, A.K.A. Monique Juillet, a burned- out Motown blues singer and animal rights activist who embarks on a spiritual awakening when Charlie Wang takes a curse off her and she reluctantly joins Moses' team. When people begin dying in the same strange way, Moses and his team must conjure up an unorthodox blend of ancient wisdom, modern science and pure guts to stop a sociopath multi-species serial killer.
Early Reviews:
"This intriguing mystery not only entertains us, but viola!, educates us as well, about sacred ecology which must be a priority for our very survival. Jim's book helps us take our 'medicine' with some sweet, zesty organic honey!"
-- Brooke Medicine Eagle, author of BUFFALO WOMAN COMES SINGING and THE LAST GHOST DANCE.
"I found the characters interesting, complex and credible. They push senses to new levels and allow us to experience a pseudo-cognitive shift through their eyes. The action and suspense keeps the book moving and the reader anxious for the next page. The toxic chemistry is all too possible.
-- "Dr. Richard Wade, former Director of Environmental Health for Seattle, Minnesota and California and currently a consultant on bio-terrorism to the National Academy of Sciences
"This is truly a timely work that evokes many things, on many levels. The characters in this book jump back at us as exciting, real and very interesting people. We care about them immensely and experience great pleasure in playing witness to their wonderful adventures. This story will appeal to anyone seeking wisdom at the dawn of a new millennium."
-- John White, former Editor-In-Chief, Countryroads Press, and former Marketing Director, Quest Books LD-50 is only available in electronic format at
Smashwords.com
,
Amazon Kindle Bookstore
and most other major book distributors. The cost is $4.95. Free review copies are available by contacting:
sgsprods@gmail.com